PPC – Paid Advertising on Google
Publishing a paid campaign on Google (PPC) requires accurate planning and control done by specialists in this field
In recent years, the field of Google advertising has seen a tremendous development.
More and more businesses and companies see the need to advertise on Google to reach their customers. With the increase in demand for advertising, so do Google advertising prices rise. The number of advertisers and the cost per click varies and increases frequently. In order to succeed in Google today, one should be mindful of two things: one, be significant (in terms of budget), and two, choose a professional company that will do the work for you in the most professional way (yes, we at LinkShake consider ourselves a professional Google advertising company).
We at LinkShake have some of the leading professionals in the field of PPC (paid advertising) as well as SEO (Search Engine Optimization) in Israel, and you can rest assured that you will get the best return at the lowest cost per click on your ads.
LinkShake Digital Advertising holds a Google Partners Certificate.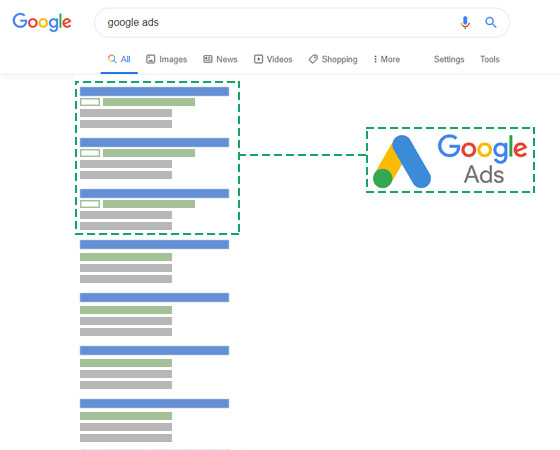 Google Advertising (PPC) – The fast track to the first result page!
Paid Google Ads advertising using a PPC Campaign (Pay Per Click). This type of advertising allows you to appear on the first search result page immediately (unlike SEO which requires a long-term search engine optimization) and to bring your target audience into your website or onto your landing page immediately.
Google advertising and marketing is dynamic, and you can make changes to campaigns based on performance, sales, and client requirements. So for example, you can add or remove keywords you'd like to target, replace ads, set up different bids for different search terms, audiences, traffic source (desktop, mobile, tablet) and additional parameters.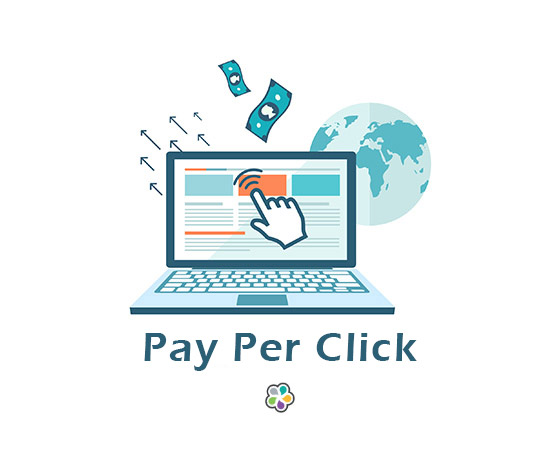 How is the first place in paid advertising determined?
As mentioned, an advertiser pays Google only for clicked adds and not for exposure. In other words, if your ad was displayed, but the searcher didn't click on it – you will not be charged.
The advertiser allocates a per-click budget and competes on the location of their paid ad against other advertisers. In addition, an advertiser allocates a daily budget for each campaign, and once the budget runs out, their ads will no longer be displayed on the same day.
In most cases, a PPC Google campaign will divert traffic from ads to a website or a landing page whose purpose will be to convert an interested visitor from a relevant audience to leave their contact details or to purchase a product directly through the website.
Google advertising is one of the most effective ways of converting relevant visitors into new clients. Why? Because that visitor was actively searching for your product or service out of their own initiative, and we match the most relevant ad to the information they were looking.
How does Google determine which advertiser would appear at the top of the first result page?
The placement of ads on the Google search network is affected by two central factors:
Ad quality score
The maximum per-click cost the advertiser is willing to pay
The average cost per click is determined by supply and demand and varies across fields, based on the level of competition and number of advertisers also bidding for the same keyword. So for example, in a given field a click can cost NIS 5, whereas in another field a click can cost as much as NIS 50. That's where we come in – we specialize in reducing the price you pay per click in Google.
An advertiser's quality score is determined by the relevance of an ad to the chosen keywords, according to the proportion of clicks (CTR) searchers clicked on the ad, and based on the relevance of the landing page to which traffic is diverted from the ad from which traffic arrived.
Google Advertising and Marketing – Our Work Process
Conducting a comprehensive keyword research – testing keywords which are relevant to the field and their search volumes.
Comprehensive competitor research – testing using advanced tools what competitors are doing and drawing conclusions on what would work best for us and how we can improve on what they're doing.
Setting goals – working with the client, we decide on the goals we wish to attain as a result of paid Google advertising.
4. Setting up a campaign – inputting keywords, writing ads, targeting the relevant audience.
Ongoing Google campaign optimization – changing bids per click for given keywords, replacing non-performing ads with new ones, targeting by device (e.g. mobile or desktop) and more.
Paid Google Ads Advantages
Immediate response – immediate exposure and immediate client onboarding for the business.
Full control of expenses – setting out a daily budget, search term bids and the likes.
Drawing conclusions and analyzing data accurately based on performance.
With the PPC pros at LinkShake you're in good hands. So what are you waiting for? Contact us now >>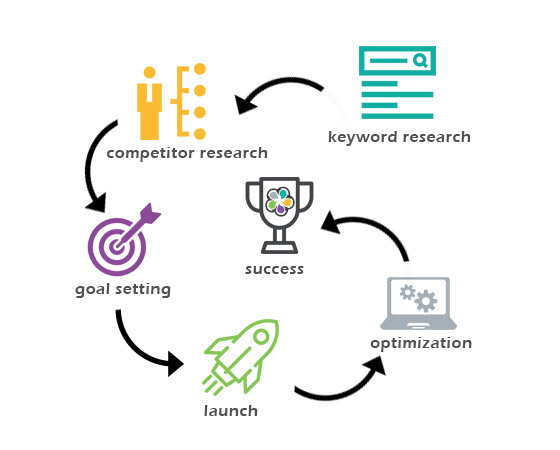 Google Search Network Advertising – Advertising for keywords for which we want our ad to appear:In the example above, we see that our ad (LinkShake) appears at the top of the first search result page for the search term "Search engine optimization", which we've decided to promote. We integrate this term, for which the user searched, in the ad itself using different variations, thus raising its relevance for that term. In addition, we can see the advanced usage our experts make of different ad tools, which raise the quality score Google attributes to the ad, thus lowering the cost per click: a location additive with the business address and business hours, and a Callout additive which offers additional information on the business (SEO for many companies, 13 years' experience in the industry).
Google Media Network Advertising – Paid advertising on Google using a slightly different style. When you upload a PPC campaign to Google's media network, you're actually pushing your ads to users, rather than wait for them to look us up (that's what a search network campaign is used for). Paid media network advertising allows us to target our target audience, using banners or regular text ads, through different segmentations: interests we choose to define, demographic properties, keywords, remarketing lists and other advanced methods. Media network campaigns offers us exposure and branding in a large scale on a variety of leading websites.
YouTube Advertising –Paid advertising on Google Ads using YouTube videos and ads. In 2006 YouTube was purchased by Google and today there are advanced options for advertising on YouTube using the Google AdWords system. For more information click here >>
Gmail Advertising –Gmail –Paid advertising on Gmail's email platform. Similarly to PPC campaigns on Google's media network, in this case we can also target a relevant audience using different filters such as demographic characteristics, interests, keywords, and more. We will create Gmail-adapted banners, select our audience, and expose it to our ad
The various advertising options in Google Adwords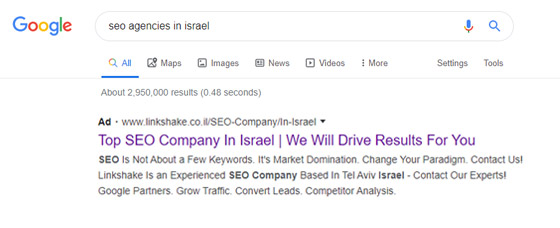 Interested in advertising on Google?  Fill out your details
Linkshake – Big enough to serve, small enough to care.